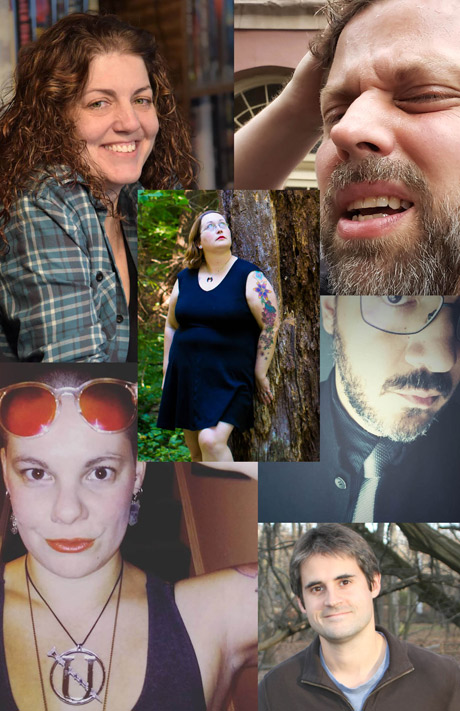 Tuesday Oct 29
TERROR IN THE RED RUM:
TALES FOR HALLOWEEN
free / Red Room / Doors at 7:00
Join six local horror authors at Black Cat for a night of dark tales to get your bones chilled in time for Halloween. Up-and-coming dark fiction author Sonora Taylor (Little Paranoias, Without Condition) brings together area authors to read, drink, and shiver in the Red Room; including Rob Blackwell (The Samhain Chronicles, the Soren Chase novels), Sawney Hatton (Uglyville, Everyone is a Moon), John Edward Lawson (New Mosque City, Discouraging at Best), Jessica McHugh (Rabbits in the Garden, The Darla Decker Diaries) and Sheri White (Sacrificial Lambs, Tales from the Crust). Books will be available for sale. The event is FREE to attend. Happy Halloween and Blessed Samhain!

About the Authors:

Sonora Taylor is the author of Without Condition, The Crow's Gift and Other Tales, Please Give, and Wither and Other Stories. Her short story, "Hearts are Just 'Likes," was published in Camden Park Press' Quoth the Raven, an anthology of stories and poems that put a contemporary twist on the works of Edgar Allan Poe. Taylor's short stories frequently appear in The Sirens Call, a bi-monthly horror eZine. Her work has also appeared in Mercurial Stories, Tales to Terrify, and the Ladies of Horror fiction podcast. Her short story collection, Little Paranoias: Stories, will be available October 22. She is currently working on her third novel. She lives in Arlington, Virginia, with her husband. Visit her online at sonorawrites.com.

Rob Blackwell is an award-winning journalist with 20 years' experience and the author of The Sanheim Chronicles and The Soren Chase novels, two series that combine urban fantasy, mystery and suspense. His latest novel, Riders on the Storm, merges urban fantasy and the western genres. His first novel, A Soul to Steal, was featured on USA Today and praised by book bloggers and readers alike for its great plot and "fantastic ending." Many of his other books have been Kindle bestsellers in the Dark Fantasy category. Rob lives in Virginia with his wife and two children. You can find out more about him at his Facebook page, at www.facebook.com/asoultosteal, or on Twitter at @robblackwellAB.

Sawney Hatton is an author, editor, and screenwriter. His published credits include the Dark Comedy novel Dead Size, the YA Noir novella Uglyville, and his Dark Fiction short story collection Everyone Is a Moon. His most recent novella The Devil's Delinquents appears in the Noir-inspired anthology Murder in Montague Falls. He also edited the Sci-Fi Horror anthology What Has Two Heads, Ten Eyes, and Terrifying Table Manners? Other incarnations of Sawney have produced marketing videos, attended chili cook-offs, and played the banjo and sousaphone (not at the same time). You can become better acquainted with him at www.SawneyHatton.com.

John Edward Lawson's novels, short fiction, and poetry have garnered nominations for many awards, including the Stoker and Wonderland Awards. In addition to being a founder of Raw Dog Screaming Press and former editor-in-chief of The Dream People he currently serves as vice president of Diverse Writers and Artists of Speculative Fiction.

Jessica McHugh is a novelist and internationally produced playwright running amok in the fields of horror, sci-fi, young adult, and wherever else her peculiar mind leads. She's had twenty-three books published in eleven years, including her bizarro romp, The Green Kangaroos, her Post Mortem Press bestseller, Rabbits in the Garden, and her YA series, The Darla Decker Diaries. More information on her published and forthcoming fiction can be found at JessicaMcHughBooks.com.

Sheri White has lived in Maryland all her life and has the crab-picking skills and the big can of Old Bay in her pantry to show for it. Her stories have been published in many anthologies, including Tales from the Crust (edited by Max Booth III and David James Keaton), Be Very Afraid (edited by Edo Van Belkom), Decadence 2 (edited by Monica J. O'Rourke), Once Upon an Apocalypse (edited by Scott Goudsward and Rachel Kenley), and the upcoming New Scary Stories to Tell in the Dark (edited by Jonathan Maberry). Magazine appearances include Lamplight, The Sirens Call, Devolution Z, and Beware the Dark. Find her on Facebook at https://www.facebook.com/sheriw1965.