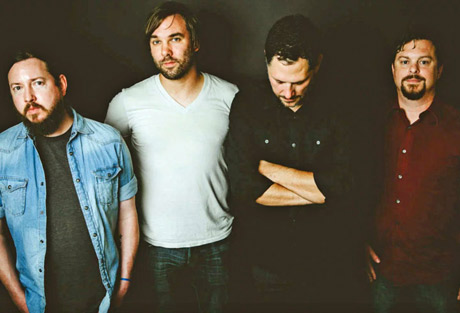 Thursday Jan 17
$30 Adv/ $35 DOS / Doors at 7:30

In 1997, after less than four years together, Mineral broke up. But while some bands simply fade away after calling it a day, that wasn't the case for the Austin-based four-piece. In fact, it was quite the opposite - their legacy grew and grew. Not bad for a band who had just put out a handful of seven-inches and two studio albums, 1997's debut The Power Of Failing and 1998's posthumous EndSerenading. Back then, Mineral's members - vocalist/guitarist Chris Simpson, guitarist Scott McCarver, bassist Jeremy Gomez and drummer Gabe Wiley - were little more than kids, early-20-somethings with a magical chemistry that can still be heard and felt in those songs today, but which few people ever got to experience at that time.
But then, in 2014, something remarkable and unexpected happened. Mineral got back together - something they said they'd never do - and played a whole bunch of shows, first in the US and then in Europe, Japan and Australia. Not only did that mean audiences were finally able to hear songs from EndSerenading in a live setting for the first time, but the band were also playing large (and sold out) venues rather than DIY basement shows and enjoying the kind of success that - despite signing to a major label - they never experienced the first time around.
Now, on the 25th anniversary of the band's existence, something else remarkable and unexpected has happened: for the first time in more than two decades, Mineral has written new music. The two new songs - released physically as a limited edition 10-inch 45rpm vinyl record and hardcover book - pick up exactly where the band left off all those years ago, ebbing and flowing with the band's trademark grace and beauty, but also carrying the weight of the world - and the past - on their shoulders. "Aurora" is a lilting, soothing and melancholy song that floats for eight gorgeous minutes and was born out of an idea Chris had, while the blueprint for "Your Body Is The World" - a haunting, elegant and dreamy tune full of tenderness that explodes and soars to its end in an epic crescendo - came from Jeremy. Both are classic Mineral, songs that fit perfectly with that highly-regarded back catalog but which also represent who the band members are today, two decades later.
Not only do both songs, which were produced by famed engineer/producer Dave Trumfio, do exactly that, but so does the 56-page book that comes with it. Featuring a written history of the band by music journalist Mischa Pearlman, it also contains brand new interviews with the band as well as contributions from Jim Adkins (Jimmy Eat World), Tim Kasher (Cursive), Norman Brannon (Texas Is The Reason), Frank Iero (My Chemical Romance) and Robert Pope (The Get Up Kids), as well as others close to the band who have played an important role in either their past or their present - or both. The book also includes a great deal of rare and never-before-seen photographs, memorabilia and handwritten lyrics, ensuring this is something to be cherished as much as the new songs themselves. And while it's entirely possible these could be last songs the band ever write, this release will be followed up with a tour in 2019 in order to truly celebrate this long-awaited new chapter for the band - because this is something definitely worth celebrating.