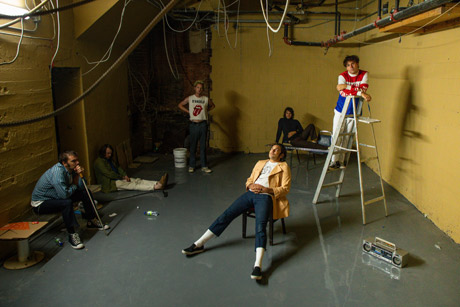 Friday Sept 13
**SOLD OUT**
Doors at 8:00
There's a certain unpolished, heartfelt, and loud-as-hell aesthetic one has to have to play garage rock. The good news is that once you have that down, garage rock is one of the most flexible styles of music on the planet. At least that's the conclusion one comes to when listening to the catalog of Los Angeles-based band The Growlers.
Together for almost 15 years, The Growlers are still finding variations on the garage rock formula. With singer Brooks Nielsen's endearingly broken-hearted vocals out in front of Matt Taylor's wiry guitar and well-chosen chords, there doesn't seem to be anything they can't throw into the basic rock 'n roll mix. The psychedelia in their early work is one thing; there were plenty of bands from the late '60s who melded unearthly harmonies and odd production choices to garage rock. But The Growlers' most recent turn has been to synths and dance music, as displayed on their 2016 album City Club (produced by The Strokes' Julian Casablancas) and damned if it doesn't still work really well. Their quality control is also through the roof; in 2018, the band released Casual Acquaintances, a collection of outtakes and B-sides from the City Club sessions, and pretty much every song could have ended up on the proper album.
The Growlers' new single "Natural Affair," self-produced by Nielsen and Taylor, continues the band's exploration of the vibier, seedier side of new wave funk. Bursting with chorused guitars and syncopated percussion, the track was inspired during sessions for their new LP Natural Affair. "A lot of our songs were coming out on the darker, more sentimental side, so we decided to make something more upbeat," says Taylor. "We all took a break, watched a documentary on Spandau Ballet, and wrote this riff that sounds a bit like 'The Groove Line' by Heatwave. More disco and energetic, just trying to keep it funky." It's the first track off Natural Affair, The Growlers' sixth studio album, due Fall 2019 on the band's own Beach Goth Records and Tapes, destined for the dancefloor, the bedroom, and the festival stage.