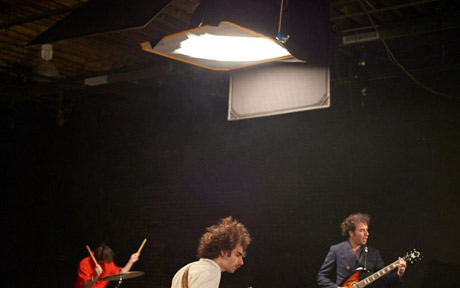 Wednesday April 25
An Evening with
Immersive Album Prerelease Show
$15 Backstage / Doors at 7:30

Yonatan Gat is a genre all to his own. His new opus, Universalists (out May 4th on Joyful Noise in US and Glitterbeat in Europe) sees the New York experimental composer honing his skills not only as guitarist and bandleader, but also as a producer. His sophomore LP sees Gat experimenting with splicing live-to-tape recordings of his genre-bending trio in ways that are as indebted to Kanye West as they are to electric era Miles Davis or Brazilian experimentalists Os Mutantes (with which Yonatan recently released a split 7-inch), pushing the envelope in ways that he can.
Three years in the making, Universalists is a conceptual and crafted snapshot of an artist evolving and experimenting, broadening his musical palette to incorporate vocals, vibraphones, horns, strings and samples, all the while remaining loyal to his live ferocity. Every recording of Gat's band in Universalists was performed (many completely improvised) live, each in a different studio, before they were meticulously edited, rearranged, reframed and reinvented by Gat.
A truly global work set to be released in the hostile political climate of 2018, the album is inevitably charged with a sense of confrontational urgency. But while it is indeed a provocative work, it goes beyond exploring the distress of our time. Universalists goes on to emphasize not the distinction between genres, and by extension cultures, but the complex similarities.

First limited edition copies of new LP Universalists will be available for purchase.