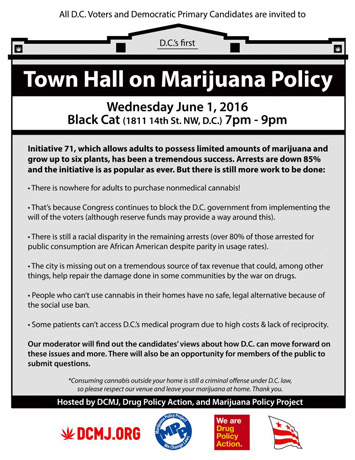 Wednesday June 1
TOWN HALL ON
MARIJUANA POLICY
Hosted by:
free Mainstage / 7:00 to 9:00
Why: Initiative 71, which allows adults to possess limited amounts marijuana and grow up to 6 plants, has been a tremendous success. Arrests are down 85% and the initiative is as popular as ever. But, there is still more work to be done:

There is nowhere for adults to purchase non-medical cannabis!

That's because Congress continues to block the DC government from implementing the will of the voters (although reserve funds may provide a way around this).

There is still a racial disparity in the remaining arrests (85% of those arrested for public consumption are African American).

The city is missing out on a tremendous source of tax revenue.

People who can't use cannabis in their homes have no safe, legal alternative because of the social use ban.

Some patients can't access DC's medical program due to high costs and lack of reciprocity.

Our moderator will find out the candidates' views about how DC can move forward on these issues and more. There will also be an opportunity for members of the public to submit questions.


*Consuming cannabis outside your home is still a criminal offense under DC law, so please respect our venue and leave your marijuana at home. Thank you.