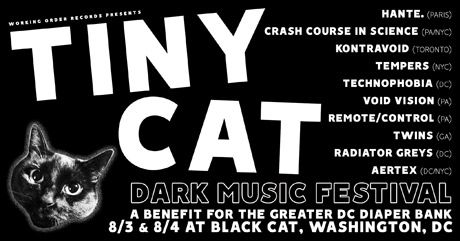 Friday Aug 3
featuring:
CHECK OUT DAY 2 OF THE FESTIVAL!
$20 Backstage / Doors at 8:00

$35 Two Day Pass

We are very excited to announce that this summer Working Order Records will hosting a two-day dark music festival called TINY CAT on Friday, August 3rd and Saturday, August 4th on the Backstage at Black Cat in Washington, DC. The lineup of musical acts we've put together is siiiiick, we're so stoked to announce them! TINY CAT will consist of five acts per night. Two will be flying in from Europe for their FIRST EVER US performances and seven of the ten acts have never before played in Washington, DC. Mark your calendars!

The TINY CAT Dark Music Festival is a benefit for charity. 100% of the proceeds raised are being donated to the Greater DC Diaper Bank. Our mission is to make a positive impact in our community through music and promotions. We hope you will join us in support of this awesome charity!


GREATER DC DIAPER BANK empowers families and individuals in need throughout DC, Maryland, and Virginia by providing an adequate and reliable source for basic baby needs and personal hygiene products. For this benefit we will be raising funding for two of their programs; The Baby Pantry and The Monthly.
THE BABY PANTRY: While diapers and wipes are always our most needed items, our families often struggle with other essentials to help their families thrive. The Baby Pantry, begun in July 2014, is a registered food pantry through Montgomery County, Maryland that provides food, formula, breastfeeding supplies, bottles, pacifiers, adult hygiene items, baby hygiene items, adult diapers, tampons, pads, and potty training supplies to families in need.
THE MONTHLY: Families who receive our diapers tell us they have gone without buying period products in order to purchase food or other basic needs. Period product need is often not discussed. What does that mean? It means using toilet paper, fast food napkins, socks, paper towels from public restrooms, or using the same tampon for too long. We can do better than this. Period.