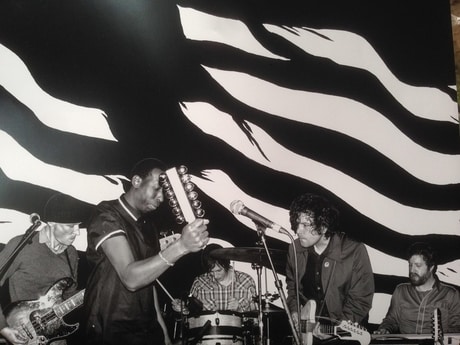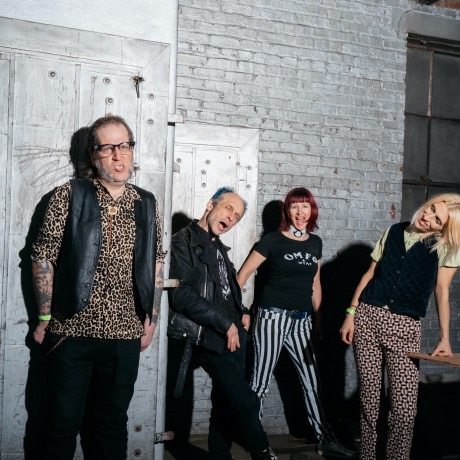 Friday July 30
with
DJ GEOFF "IL WIZARDO" TURNER
$15 / Doors at 8:00

Des Demonas hail from Washington DC, and have been denizens of the byways and highways of the city's musical underground for years. Jacky Cougar Abok is the six-foot-five-inch tall Kenyan punk singer who has drummed with Thee Lolitas and Foul Swoops. Guitarist Mark Cisneros has bent strings with Kid Congo & The Pink Monkey Birds, Deathfix, and Medications and pounded the traps for The Make-Up and Benjy Ferree, the latter alongside organist Paul Vivari. Joe Halladay (Citygoats) on bass and Ryan Hicks (Suns Of Guns) on drums round out this squared circle of sight and sound.
The songs on Des Demonas range from Nuggets-style snottiness on "Tuff Turf", to the brash warnings of "Liez" ('Lies… only seem to matter if you never wise up'), to the stomper "Psychedelic Soldier" and cool psycho creeper "Say You Tried", to the hard boiled 70's punk of Swahili-sung "Golden Eggs". When Abok sings "There are no vampires in Africa," it may be a warning. It may be a fact. Or it may be a whole lot of unrelenting scuzzy fun. Dig the Des Demonas. Play it loud. Twist your wig.

The Owners are Dante Ferrando (Gray Matter, Ignition), Catherine Ferrando, Al Budd (The Shirks), and Laura Harris (Ex Hex, The Aquarium). The Ferrandos have owned and operated the Black Cat since it opened in 1993, Al Budd and Laura have both been behind the bar for more than 20 years. Although they have worked together and seen each other perform for many years, it wasn't until the pandemic hit and the club had to put a hold on shows that they thought to get together and play. The result is one of the most fun new bands in DC.