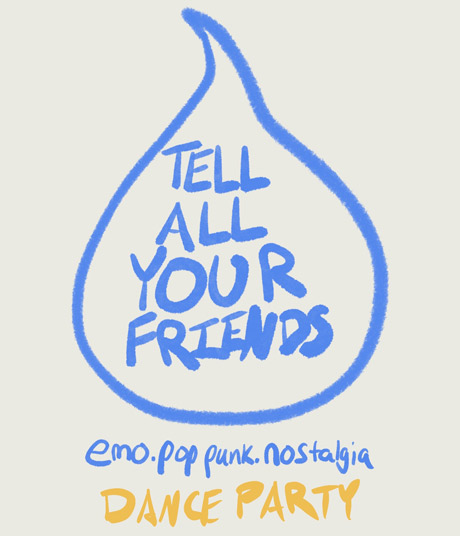 Friday July 15
TELL ALL YOUR FRIENDS

An Emo vs Pop-Punk Dance Party
w/ DJs Caleb L'Etoile and Evan Roseberry
$10 Advance/ $15 Day of Show / Doors at 9:00

DC's premier emo vs pop punk party, Tell All Your Friends, is back this month at the Black Cat. Celebrating the 20th Anniversary release of Taking Back Sunday's seminal album of the same name, this party is the perfect kickstart summer bash. Come fill the room with enough tears and spilt beer to swim in.

This month's theme is Pop Punk Pool Party, and this will be the first time we're doing a costume contest with a giveaway for the best dressed, so lean in, have fun, and bring your best beach goth scene kid vibe (and hug a few palm trees while you're at it).


Taking Back Sunday · Blink 182 · Brand New · Sum 41 · My Chemical Romance · Yellowcard · Paramore · New Found Glory · Fall Out Boy · Modern Baseball · The All American Rejects · Joyce Manor · Green Day · Panic! At the Disco · Pup · Jimmy Eat World · The Starting Line · The Promise Ring · Motion City Soundtrack · Dashboard Confessional · The Ataris · Say Anything · AFI · Thursday · Alkaline Trio · Jeff Rosenstock · Sorority Noise · The Front Bottoms · The Gaslight Anthem · The Menzingers · Jawbreaker · Pinegrove · The Ergs!