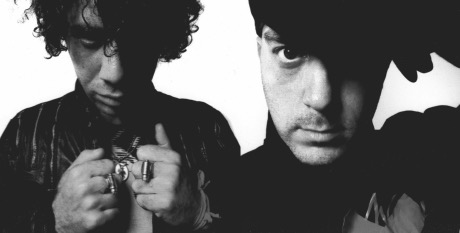 Thursday November 3
$35 / Doors at 7:30

She Wants Revenge, the dark-alternative duo who first exploded onto the scene with 2005's evergreen hit and dance floor classic, "Tear You Apart", have reformed after a two-and-a-half- year split, with tour dates, a new lineup, and their first album in over 10 years.

For childhood friends Justin Warfield and Adam Bravin, She Wants Revenge began as a production duo making songs to DJ at clubs. But when a 3-song CD was passed to a friend, they signed to Geffen records, and soon their demos became the basis of 2005's self-titled LP. They hit the road supporting Bloc Party, The Kills, and OKGO, and on one of their cross-country runs, their dark, minimalist bass-heavy throwback, "Tear You Apart" became a bona fide hit. Soon they were opening for Depeche Mode, The Psychedelic Furs, Placebo, co-headlining with Peter Murphy of Bauhaus, and headlining Coachella alongside Daft Punk. In under a year the oddball song they thought sounded like an evil version of the B52's or Wall of Voodoo had them blitzing through the late-night talk show circuit, and with singles "Out of Control", and "These Things" also climbing the charts, they went on to sell over 300,000 albums just as streaming began to drastically reshape the music industry.

Though they came to prominence in the mid-aughts post-punk revival, Justin and Adam were more indebted to their early influences; Prince, Tangerine Dream, ELO, Giorgio Moroder, and 90s hip-hop. It was their true to the era production style, thoughtful songwriting, and heart-on- the-sleeve lyricism which ran counter to the studied dance punk and emotionally distanced, clever sound of their contemporaries which endeared them to the legions of fans who hungered for their brand of bold, emotive music which was sorely lacking at the time. In doing so, they made fans of both the older crowd as well as their younger counterparts, and more pointedly, drew nods and praise from the bands who directly inspired them - cementing SWR's legacy as torch bearers for the moody and morose who came before.

Road-worn and weary from a breakneck touring schedule, the band announced in 2012 that they'd be going on an indefinite hiatus. For their fans to whom they'd become like musical family, this was nothing short of heartbreaking, the uncertainty of the word, "hiatus" only making it worse. But behind the scenes, it was clear; this was a break-up, and difficult as it may have been, it was the only way to retain the friendship which was at the heart of all they'd done. Rather than subject audiences to punch-ups and public feuding, they went their separate ways, played the final, emotional shows, and dove head-first into separate projects, with Adam starting his solo project Love, Ecstasy and Terror, and Justin forming the band Dream Club, both recording albums and playing shows at home in Los Angeles.

Feeling as though they had to make up for lost time, they decided to finally make that long- awaited 4th album. Knowing they were never the most prolific of bands, they also felt that with their renewed enthusiasm, and a healthy, communicative relationship at the core, they could make as many albums over the next five years as they had over the previous 15.

With a new 5-person lineup featuring Justin on vocals/guitar, Adam on keys/samples/effects, Thomas Froggatt (formerly guitar) on bass, Spencer Rollins (a longtime creative associate and friend of the band) on guitar, and David Goodstein (a mutual friend of Justin and Adam) on drums, the revitalized SWR exudes the excitement and energy of bands half their age, and with tours planned through the fall, 2023 festival appearances already on the books, and the Justin and Adam more inspired than ever, She Wants Revenge is a band on a mission, grateful to still be able to do what they love, while continuing to grow as artists and individuals.