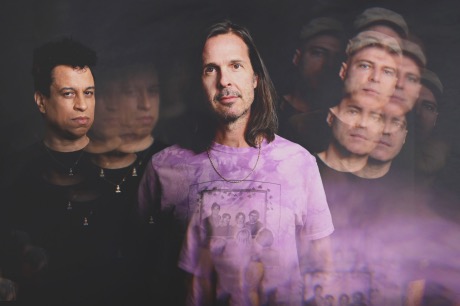 Wednesday October 27
$27 Advance/ $30 Day of Show / Doors at 7:00

One of the most remarkable aspects of Distant Populations—Quicksand's first album since 2017's Interiors—is how timely and prescient the themes running throughout its songs sound at this very moment. Thoughtful, driving, and powerful, like the long-lived band itself, the 11 tracks comprising Distant Populations have an emotional resonance that is only amplified by the events of the past stressed-out, locked-down year.
If there is a recurring theme running throughout the new album, it might be this: "Everyone is on the one hand so connected with each other," says Schreifels, "and on the other hand is so far apart, and so freaked out about everything."
That seeming contradiction may lie at the heart of what Distant Populations is all about. The title comes from a lyric from anarcho-crust punk band Nausea's "Fallout (Of Our Being)" about "destitute populations"; because of the singer's thick accent, Schreifels misheard it as "distant populations" and instantly connected with that concept. "So we're checking out each other's social media and we know what everybody's doing," he says, pointing out a sad irony. "But when we're sitting in the same room together, we're looking at our phones."
That peculiar duality—our simultaneous existence in individual relationships and as part of mass society—is examined with power and surprising emotional impact throughout all of the tracks here. Cutting and sharp lyrical passages pop out on tracks such as the throbbing "Colossus": "A new life/ We're never meant to feel completed/As long as we're here/It doesn't matter what for" And alienation—from whom or what often going unsaid—and loneliness are touched on regularly, whether subtly ("Sometimes it's better just to keep on traveling" from "Phase 90") or stated plainly ("Living just around the corner/Share the same existence/Doesn't make a difference/Deconstructed, isolated" from the closing track "Rodan"). Combine those sentiments with the most sweeping, powerful music the band has ever created, and you've got a truly unforgettable, extremely timely listening experience.
Distant Populations, just the fourth full-length album of Quicksand's career, comes as a comparatively swift follow-up to Interiors--which itself came a full 22 years after its predecessor, 1995's Manic Compression. Critically lauded and deemed very much worth the wait, Interiors succeeded in reestablishing the band as the powerful and contemporary entity they had always been. "Our only conscious challenge for that period, really," says bassist Sergio Vega, "was that we felt like we needed to make a record that was worth waiting that long for." Its success proved that they met that challenge, and, he adds, "galvanized by that, we felt like we know what we are today. We know what fits in our template. And we can build off that and expand on that."
And expand they did. Distant Populations has a punchier, more up-tempo sound than its predecessor; its 11 songs are concise, carved sonic jewels boasting not a single wasted note; and its raw power, its gripping lyricism, leaps out from the very first listening. It is a striking step up for the band.