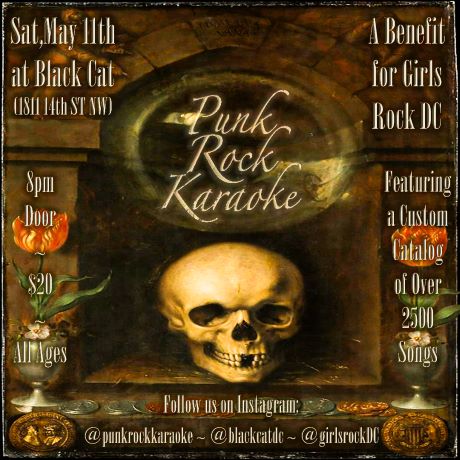 Friday May 26
$10 Advance/ $15 Day of Show / Red Room / Doors at 8:00

DC, It's been a while...a long while in fact. But we are very excited to say, our extended absence has come to an end and we're finally returning to the loving embrace of The Black Cat.

Rest assured that we've been busy while we've been away and spent much of our lockdown bulking up our catalog. We have added nearly 1000! new tracks since we saw you last (peep the list of new artists below). So come out ready to explore our greatly expanded catalog, sing some songs, and as always, support organizations fighting to make this world a better place to live in.

P.S.
Please be vaxxed, stay home if feeling sick, and seriously consider wearing a mask when not singing.

About Stop Cop City:
Stop Cop City is a grassroots, decentralized campaign to halt construction of a massive police training facility that would destroy hundreds of acres of the Weelaunee forest in order to further militarize an already deadly police force.

In the course of this resistance to police violence and environmental destruction, one activist has been murdered by the police and 42 others are now facing domestic terrorism charges for defending the land and their communities against police terror.

All money raised from this event will go directly towards the legal defense of those arrested and support to the ongoing campaign against Cop City.


New Artists in the catalog include:
Amyl and The Sniffers, Ann Beretta, Antischism, Aus Rotten, Avail, Bad Cop/Bad Cop, Bad Moves, Chumped, CIV, Conflict, The Criminals, Diet Cig, DIRT, Discharge, The Exploding Hearts, F-Minus, FIDLAR, Flux Of Pink Indians, The Gits, Good Luck, Gravy Train, Harum Scarum, The Hold Steady, Hot Water Music, Jeff Rosenstock, The Linda Lindas, Lunachicks, Martha, The Menzingers, Naked Raygun, Neutral Milk Hotel, Paint It Black, Pup, Rainer Maria, Remember Sports, SNFU, Strike Anywhere, Teenage Bottlerocket, Thursday, Torso, The Unseen,The Vandals, Wipers, and many many more!