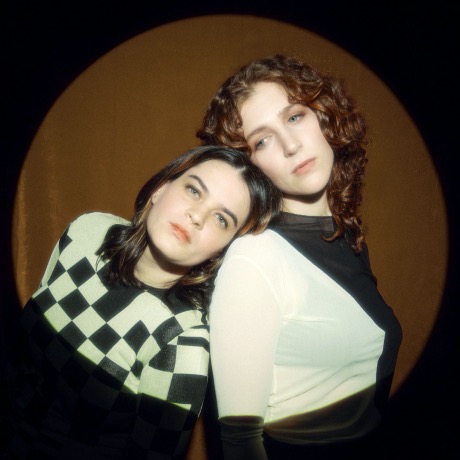 Friday October 1
$20 Advance / $22 Day of Show / Doors at 8:00

Shaving their heads, grabbing guitars, and pulling no punches, Overcoats etched a ten-song bat-tle-cry on their second full-length album, The Fight [Loma Vista Recordings]. Their vision is not about picking up arms, but rather about picking oneself up. It's the kind of record that might in-spire you to quit your job, run a marathon, divorce your husband, change your life in the way you always wanted to, but needed an extra push for. This is the push...
As New York-natives Hana Elion and JJ Mitchell wrapped up touring behind their critically ac-claimed 2017 debut YOUNG, it seemed as though the world was collapsing around them. There was no choice but to fight. "We lost friends to addiction and to gun violence, we were battling an extremely tough political climate, and feeling the weight of existential loneliness," admits Hana, "We had to learn how to take care of ourselves and each other in a different way." "There was a realization that we couldn't wait for life to get easier," adds JJ. "The idea you have to fight for who you are, what you want, and what you hope to see in the world became poignant for us. We real-ized the thing to do is not to wait for life to get easier, but to start fighting harder."
Overcoats draw the same unfettered emotion from listeners. Since forming out of a Wesleyan dorm room in 2015, Hana and JJ quietly molded provocative pop into power. YOUNG stood out as "one of the Top 5 bestselling albums from a debut artist on an independent label in 2017," bowed at #4 on the Alternative New Albums Chart, and landed at #12 on the Heatseekers Chart. Billboard touted YOUNG among "The Best Albums of 2017 – Critics Pick," and NPR Music named it the "#4 Album of 2017" in addition to praise from New York Times, NPR, Entertainment Weekly, and more. Additionally, they toured alongside Mitski, Tennis, Rhye, Matt Corby, The Japanese House, and Joseph.
By crafting and recording The Fight, they continue their journey, encouraging listeners to fight alongside them. "I want people to feel revved up," Hana leaves off. "I want them to feel like things they thought were futile are possible. I want them to feel excited for the future. We have to keep trying. In trying, I want people to feel powerful in who they are."