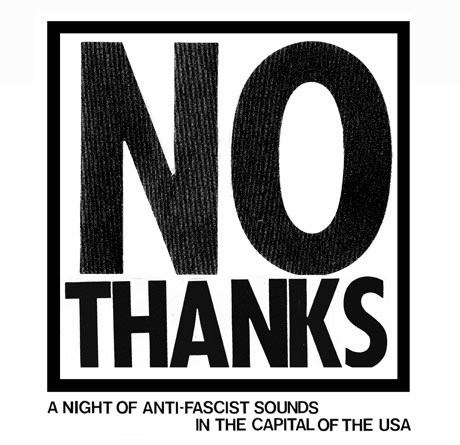 Friday Jan 20
**SOLD OUT**
NO THANKS
A Night of Anti-Fascist Sound Resistance in the Capital of the USA
featuring:
Irreversible Ways Ensemble
(Luke Stewart, Camae Ayewa, Mark Cisneros, Keir Neuringer, Jamal Moore, Anthony Pirog, Janel Leppin, Ian McColm)
Abby Martin
Kevin Erickson
Mainstage / Doors at 6:30
An eclectic lineup of artists, musicians, and activist speakers will come together at the Black Cat to resist the coalescence of fascism in America.
The Trump administration flaunts classic authoritarian traits. We are alarmed as creative workers who value art, intellect, free inquiry, community diversity, compensation of labor, freedom of assembly and association, freedom of the press, and freedom of religious expression. It is imperative that we lock arms across race, class, gender and sexual orientation to resist and fight this clear and present danger. This is the solidarity necessary to dismantle toxic underpinnings of the incoming administration.

If you can't attend, you can still contribute to the No Thanks! benefit.

For the safety of our patrons and our staff throughout the inauguration week, the Black Cat will adhere to a strict 100% bag check and 100% ID check policy.