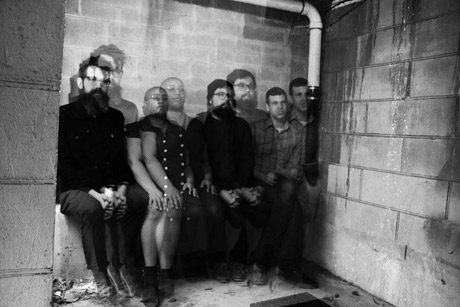 Thursday July 5
$10 Backstage / Doors at 7:30

For Mock Identity, the sum is both greater than, and equal to, its parts. Comprised of some of the DC experimental music scene's most innovative and forward-thinking musicians - vocalist Adriana-Lucia Cotes (Antonia), guitarist Jeff Barsky (Insect Factory), bassist Joshua David Hoffman (Supersonic Piss), and percussionist Nate Scheible - this post-hardcore quartet is a force of musical resistance that sounds miles away from the musical worlds of avant-pop, free jazz, and ambient drone its members come from.
Of course, that's a shallow way of defining a band that contains multitudes. Formed in the winter of 2017, Mock Identity came together as artists with a shared passion of musical experimentation, social awareness, and a desire to disrupt the toxicity infecting society—racism, misogyny, patriarchy, homophobia, transphobia, xenophobia, Islamophobia, anti-semitism, ableism, and white supremacy—in all forms.
On its debut LP, Paradise, Mock Identity unleashes ten tracks of twisting, angular post-hardcore that whips the senses like a howling wind. Barsky's knotty guitar riffs soar into an outer dimension, while Hoffman and Scheible lock into heavy rhythmic grooves that keep these songs grounded on Earth. But it's Cotes' soaring vocals and scathingly vivid lyrics that packs the most punch: "You want to talk about it?/ You should know all about it/ I mean it when I say/ No means no, man," she sings on "No Means No." There's no mincing words; Mock Identity isn't here to fuck around.