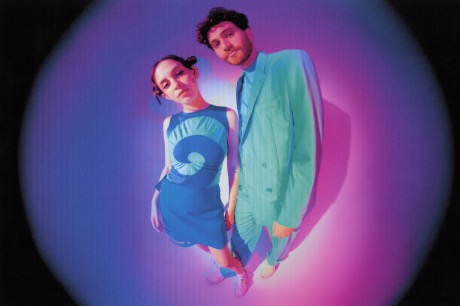 Saturday February 19
**SOLD OUT**
Doors at 8:00
Few artists are at once artful and savvy enough to transcend the endless scroll, but over the past 18 months, LA-based indie-pop duo Magdalena Bay have used social platforms to dispatch their music, and what you might call their philosophy, in hypnotic, ephemeral bursts. A long trip through their feeds produces music videos in miniature, irreverent pontifications on the state of the music industry delivered via home video VHS aesthetics, and existential meditations on everything from International Women's Day to the clone craze of the early aughts to the indefinite lifespan of plants. To Mica Tenenbaum and Matt Lewin, reality can be unmade, manipulated beyond all recognition; their project is as much musical as it is an experiment in pop persona and visual aesthetics.

On October 8th, Magdalena Bay released their debut full-length LP, Mercurial World, via Luminelle. Entirely written, produced, recorded, mixed and mastered by the duo, Mercurial World proposes an abstract theory of time and explores the staggering "what ifs" that make up the human experience. Approaching reality as a construct allows Magdalena Bay to enact their own, one that is committed to nothing but expanding the possible. Even the album's sequencing hints at the eternal: the first track is titled "The End," the last is "The Beginning," forming a perfect loop when you listen to it straight through. "Matt, Matt, wake up!" Tenenbaum whispers on the introductory track. "I was thinking about how there's no true end to anything/ Everything comes from and goes to the same place: NOWHERE."

"Mercurial World has a lot of outsized themes on it, like destiny, death, and doing the impossible," Tenenbaum explains. "It's not exactly a concept album, but we love prog-rock, so we love a concept."

Tenenbaum and Lewin met over a decade ago at an after-school music program in their hometown of Miami, where they bonded over a shared love of Genesis and King Crimson, eventually starting a prog-rock band together that lasted until they moved away to college. The two reconnected after freshman year and decided to continue their teen rock project, this time in a radically new form that would come to be Magdalena Bay. "We started discovering all of this experimental pop music that pushed the boundaries of what 'pop' really means," Lewin says.

Bleeding-edge producers like Charli XCX and Grimes were a gateway, and by 2019, Magdalena Bay self-released their debut collection, mini mix vol. 1, followed soon after by a slew of one-off singles, all of which arrived accompanied by tricked-out videos. "Those early references have gotten more and more dissolved as we've come into our own sound," Tenenbaum says. "Our philosophy was just to throw things at the wall. I like to think that our music lives between genres." In 2020, Magdalena Bay debuted A Little Rhythm and a Wicked Feeling, an EP that included the song "Killshot," which went viral when anime communities on YouTube and TikTok created fancams and choreographed dances to it. When the band's growing fanbase demanded a slowed down version of the track, the duo obliged.

The EP landed them opening slots on sold-out tours with Kero Kero Bonito and Yumi Zouma, but when the COVID-19 pandemic arrived stateside, they were forced back into isolation, a state they fortunately thrive in. The pair met the moment; they upped their online presence and began streaming sets on Twitch, organically building a following while much of the world was stuck inside. "We spend all of our time together, and in some ways Mercurial World is about that particular sense of madness in containment," Lewin says. "We live together and make art together; this immerses you in our creative, insular universe."

On the title track, Tenenbaum sings directly to her bandmate against a glitzy backdrop punctuated by chiptunish blips: "You'll be around always/ Holding me down/ Living in a mercurial world." The Madonna interpolation contributes to the sense that Magdalena Bay operate on a space-time continuum that is uncanny, at once familiar and not. "Many of the lyrics express anxiety about losing time," Tenenbaum says. The high dramatics of "You Lose!" align with the penultimate, throbbing club track "Dreamcatching" as both reflect on the terrorizing realization that everyone eventually runs out of it. More specifically: "'You Lose!' is about the industry, and the anxiety that comes with trying to be a musician and maybe not quite making it," Lewin says.

Words like "anxiety" and "paranoia" come up regularly when Magdalena Bay describe their debut, but the production is beyond confident. Tracks flit between genre trappings with the ease of a band who reject the need to present any one way. "Hysterical Us" is propelled by sweeping instrumental flourishes that recall the blown-out aesthetics of a closing number in a way over-budget stadium set, while a snare snaps like a funkified house song on the bass-heavy "Secrets (Your Fire)." Their confidence overwhelms midway through "Chaeri," when Tenenbaum pleads for forgiveness while a soundscape so vast and thunderous threatens to consume her. But even as they dabble in darkness, Magdalena Bay do so without ever dragging you down into it. You can hear the band's reverence for Electric Light Orchestra in it, who they describe as "grandiose, but still cheeky."

The same descriptor can be applied to Mercurial World. On this album, Magdalena Bay offer the listener a prismatic experience, one that is built on a desire to simply believe in something beyond the finitude of our lives. It's not religion, it's not spirituality; it's this music, this moment. The album closes with "The Beginning," a discotheque ready call-back to "The End" that momentarily resolves all of Magdalena Bay's late-night philosophical questions. "Matt, go back to sleep. I think I've finally got it all figured out," Tenenbaum whispers. "Like a butterfly floating in amber, we've made this moment eternal."