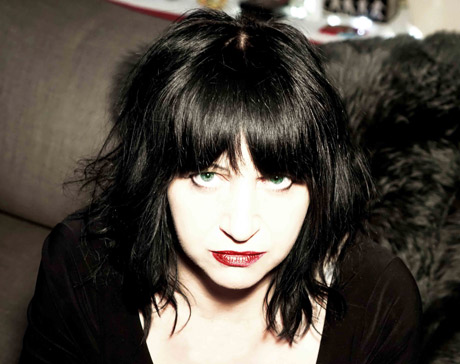 Thursday September 16
with Bob Bert (Sonic Youth), Weasel Walter, & Tim Dahl
$20 Advance/ $25 Day of Show / Doors at 7:30

Lydia Lunch Retrovirus: An All-Star cast of sonic brutarians in a no-holds-barred survey of her musical output from 1977 to the present. Including music from Teenage Jesus and the Jerks, 8 Eyed Spy, Queen of Siam, 1313 and Shotgun Wedding.
Lydia Lunch has spent decades trolling through the sub/terranean sick-home black & blues creating a schizophrenic musical legacy which loops from shrill No Wave to bludgeoning Hard Rock, from smoky Jazz Noir and illustrated word to macabre Psychedelia.
Weasel Walter is best known as the founder of the cult punk jazz/no wave/brutal prog band, The Flying Luttenbachers. Mr. Walter has also worked with other experimental rock groups like XBXRX, Behold The Arctopus, Burmese and Lake Of Dracula. As an improviser, Mr. Walter has performed with Evan Parker, Marshall Allen, Elliott Sharp, Peter Evans, Henry Kaiser, Mary Halvorson, Nels Cline, Jim O'Rourke and Vinny Golia.
Bob Bert has pounded the skins for Sonic Youth, Pussy Galore, Chrome Cranks, Knoxville Girls, fronted his own group Bewitched and has provided a unique rocking voodoo backbeat on over 30 albums. A stint in print making at Warhol's Factory helped inspire him to create the highly lauded music, art and literary magazine BB GUN.
Tim Dahl is a composer and professional electric and double bass player, vocalist, keyboardist and composer living in New York City. He is best known as the front man and bass player of the noise-rock band Child Abuse and the defunct avant-jazz group The Hub. He also writes and performs for the jazz ensemble Pulverize The Sound. Dahl has toured extensively throughout North America, Europe and Japan, and performed with many notable musicians, composers and performers including Yusef Lateef, Archie Shepp, Eugene Chadbourne, John Zorn, Marc Ribot, Elliot Sharpe, Tatsuya Yoshida and Stanley Jordan.


The Hammered Hulls are a band from Washington D.C. made up of some very old connections.
Mary Timony (bass) and Alec MacKaye (vocals) grew up in the same Washington neighborhood and have spent the better part of their lives in each other's somewhat distant orbit. Always aware of each other, but never able to play together.
Mark Cisneros (Guitar) has been in D.C. for more than a decade. He cut his teeth in Los Angeles listening to both Mary and Alec's bands, but also a healthy dose of free jazz and garage. He is the man who plays everything with everyone, but this is his band.
Hammered Hulls are rounded out by Chris Wilson (drums), a monstrous drummer with no shortage of love for all three of his bandmates. Every person in this band is a fan of every other person in this band. Mutual respect drives this train. To say they are an odd collection of influences is to understate the point. If you tried you couldn't imagine what this band might sound like.
The band's three-song debut single was recorded in a single day at Inner Ear studios with Don Zientara and Ian MacKaye.