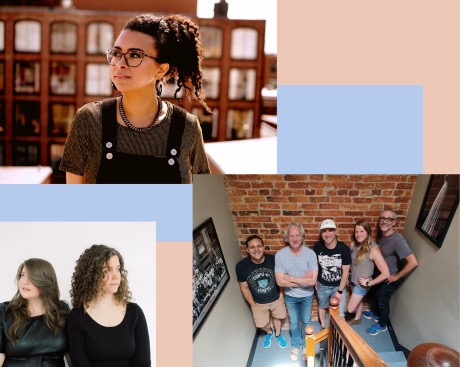 Friday September 17
$15 / Doors at 8:00

Uptown Boys Choir make heartfelt, urgent music that needs to be heard. Originally a solo project from bassist-songwriter Kevin de Souza, UBC's sound has evolved with the addition of Ben Tufts (drums), Joel Hicks (keys), Kate Potrykus (guitar), and Brian Pagels (guitar). The quintet's sophomore release, Get Help, is at times introspective, self-deprecating, funny, heartbreaking, and captivatingly dynamic and honest throughout.

Jasmine Gillison has been mesmerizing audiences with her beautifully earnest lyrics and intimate songs for over 10 years in the DC area and beyond. With intricate fingerpicking style, arresting vocals, and a way of storytelling that will lovingly punch you in the gut, you are guaranteed to be taken on a journey. Joined by her full band, you can expect dynamic sonic landscapes that perfectly complement the ups, downs and in-betweens that first inspired the songs.
Jasmine's band features Mark Williams on electric guitar, Kevin de Souza (Uptown Boys Choir) on bass, and Ben Tufts on drums. Together, the band released Jasmine's 2018 debut EP "Little Light", followed by the 2020 single "Concrete", which was nominated for Best Pop Song and Best Rock Song in the 2021 Washington Area Music Awards (Wammies).

Lush harmonies and heartfelt lyrics, often with a wink or quirky twist, await you with the brilliant award winning singer/songwriter duo: Griefcat. Described as "Local Favorites" by Washington City Paper, Griefcat is comprised of veteran singer-songwriters Louisa Hall and Annie Nardolilli. Annie and Louisa met behind the scenes at a variety show in 2015, and felt an immediate kinship after Annie sang about a Hot Park Ranger, and Louisa about her Barista Boyfriend. They reunited to play the 9:30 Club in 2018 and vowed to form a band: Griefcat. They scheduled their first rehearsal in 2019, wrote a song about vaccines and egg rolls, and the rest is (recent) history.
Griefcat's songs range from hilarious to sincere with a unique sound akin to Flight of the Conchords, mixed with a little Dolly Parton and an indie flair. Griefcat entertains with music about the trials, joys, and tribulations of modern life. As one concert goer said, seeing Griefcat was "the most fun I've had since Lizzo."