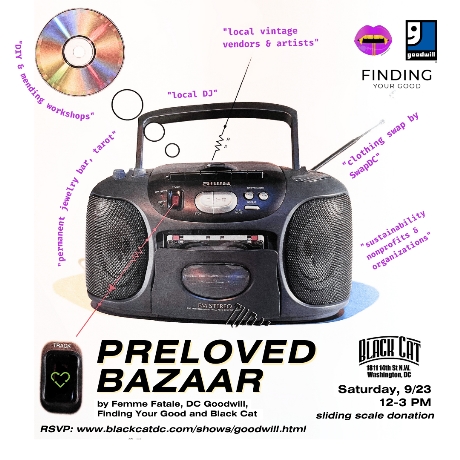 Saturday September 23
**SOLD OUT**
PRE-LOVED BAZAAR
12PM - 3PM
Vintage. Thrift. Clothing Swap. DIY Workshops. Music. Community. Sustainability. Viva La Preloved Revolution! ?? This year's 3rd annual Preloved Bazaar, brought to you by @femmefataledc, @dcgoodwill, @findingyourgood & @blackcatdc, is going to be bigger and more impactful than ever before. Join us on Saturday, 9/23, from 12-3 PM for a preloved party full of fashion, style, and radical respect for Mother Earth.

Shop in our secondhand market and learn about sustainability with offerings from more than 15 local entrepreneurs, artists, and organizations. Do a DIY craft and catch our DJ set! We are proud of and humbled by the support we receive from you, our community!

Vendors include:
@dcgoodwill
@femmefataledc
@morethanyouraverage
@thriftstorejor
@elephantinmyroom
@thriftnprosper
@btvintageclothes
@themodelmutiny
@chaseloveretrofits
@unnisclosetvintage
@trialanderror.ftw

Permanent Jewelry Bar with @so_me_design
Clothing Swap by @swapdc - Bring three items to swap with others!
Tarot with @brigetheidmous
Fix-It Station and community resources from @DOEE_DC
Sustainable Fashion & Workshops with @ClimateClassesDC and @RemakeOurWorld
DJ spinning tunes to set the vibe
And much more!