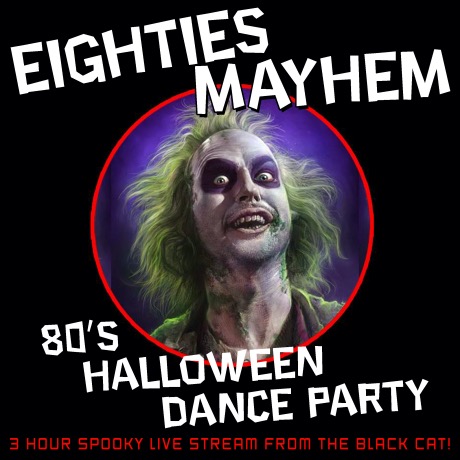 Saturday Oct 31
FYM Productions presents:
w/ DJs Steve EP, DJ Missguided
and Killa K
NO COVER / WATCH ON TWITCH / Stream at 9:00EDT
WE ARE SUPER EXCITED to announce our 8th Annual EIGHTIES MAYHEM - 80's Halloween Dance Party will return on Halloween night 10/31! This will be the first EVER live stream dance party from the Black Cat! Our Beetlejuice themed party will be 3 crushing hours of 80's bangers and Halloween favorites. Mark your calendars and spread the word! :)

Costumes Encouraged!

FYM Productions on Twitch: www.twitch.tv/fymproductions/
(FYI you do not need a Twitch account to tune in)


FYM Productions will be accepting donations here:
PAYPAL: paypal.me/fymproductionsdc
VENMO: @FYMProductions
CASH APP: $fymproductions

WE WANT YOUR PARTICIPATION! So, here are a few helpful suggestions on how to get ready for Halloween!
1. Clear an adequate space for dancing. FYI we are not doing this so you can sit on your couch. Dance on your couch, maybe!
2. Invite your friends and chat it up during the party.
3. Get those Halloween costumes together!
4. Turn the broadcast up loud! I'm sure your neighbors will be okay with it...
5. This is the most important one, dance, sing along and enjoy yourself! FYI all pets are most welcome. Our cats, Tiny and Meatball, will be in there in spirit (get it???) but are staying home for this one.
6. This one is optional! If you feel comfortable, please take photos and videos of yourselves and post them on Instagram or Facebook. Please use the hashtag #eightiesmayhem.