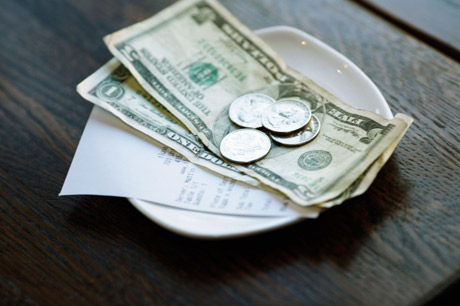 Tuesday May 29
A PANEL ON BALLOT
INITIATIVE 77
Moderated by:
LAURA HAYES
(Food Editor, Washington City Paper)
ANDREW GIAMBRONE (Loose Lips Columnist, Washington City Paper)
Mainstage / Doors at 7:30
Join us on May 29 for a panel about Ballot Initiative 77. Doors open at 7:30 p.m. and the panel will run from approximately 7:45-9 p.m. Admission is free, but it is suggested that attendees reserve a ticket.

On June 19, D.C. voters will decide whether the city should eliminate the tipped minimum wage. Currently a tip credit allows employers to pay tipped workers like servers and bartenders a lower base wage of at least $3.33 an hour, thus asking customers to bring workers up to the standard minimum wage with tips. If tips do not carry a tipped worker over the standard minimum wage, the employer is obligated by law to make up the difference. All but seven U.S. states have a tip credit.

Restaurant Opportunities Center United obtained enough signatures to get 77 on the ballot. If it passes, the tipped minimum wage will go up in eight increments until it reaches $15 in July 2025. If 77 doesn't pass, the tipped minimum wage will still increase to $3.89 in July, $4.45 in 2019, and $5 in 2020. Restaurants will likely have to make major changes to their models such as instituting a service charge, switching to counter service, or raising food and drink prices in order to account for the increase in payroll.

The battle that's brewing is one that's both high stakes and highly emotional. Tipped workers and their employers have called 77 "a solution in search of a problem" that could devastate the industry that already operates on thin margins. Proponents of 77 want to elevate a sector of workers they say earn poverty wages and experience wage theft, adding that tipping and a two-tier wage system disadvantages women and people of color and is a prime cause of sexual harassment.

While the Department of Employment Services found fewer than five wage complaints after auditing 593 hospitality industry businesses in fiscal year 2017, the battle over 77 question has some pondering if the city should double its enforcement efforts of existing labor laws.

Panelists:

Kathy Hollinger, CEO, Restaurant Association Metropolitan Washington
Diana Ramirez, Director, ROC-DC
Josh Phillips, Partner, Espita Mezcaleria
Jill Marie Tyler, Co-owner, Tail Up Goat
Sheena Wills, Tipped Worker, DC-9
Karim Soumah, Tipped Worker, RIS
Venorica Tucker, Tipped Worker and ROC Member
Thea Bryan, Tipped Worker and ROC Member
Justin Zelikovitz, Attorney, DCWageLaw
Ed Lazere, Candidate for DC Council Chairman
(Moderator) Laura Hayes, Food Editor, Washington City Paper
(Moderator) Andrew Giambrone, Loose Lips Columnist, Washington City Paper

Seating is first-come, first-served.