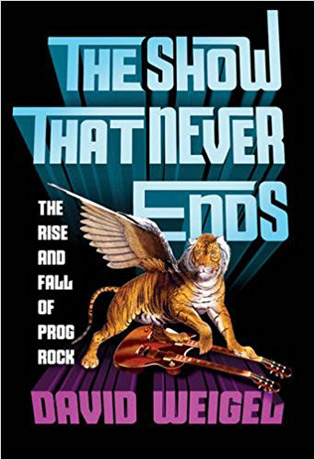 Monday June 12
Release Party for
A book by David Weigel
free Backstage / Doors at 6:30
This is the wildly entertaining story of progressive rock, the music that ruled the 1970s charts - and has divided listeners ever since.
The Show That Never Ends is the definitive story of the extraordinary rise and fall of progressive ("prog") rock. Epitomized by such classic, chart-topping bands as Yes, Genesis, Pink Floyd, Jethro Tull, and Emerson Lake & Palmer, along with such successors as Rush, Marillion, Asia, Styx, and Porcupine Tree, prog sold hundreds of millions of records. It brought into the mainstream concept albums, spaced-out cover art, crazy time signatures, multitrack recording, and stagecraft so bombastic it was spoofed in the classic movie This Is Spinal Tap.
With a vast knowledge of what Rolling Stone has called "the deliciously decadent genre that the punks failed to kill," access to key people who made the music, and the passion of a true enthusiast, Washington Post national reporter David Weigel tells the story of prog in all its pomp, creativity, and excess.