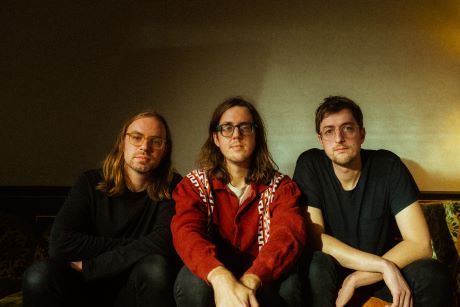 Thursday August 26
$20 Advance / $23 Day of Show / Doors at 7:30

Before recording new album The Shadow I Remember, Baldi began writing one song a day, much like he did when he first started the project. Only a few months into 2020, Baldi had amassed a significant new library of songs. Ten of those songs became the surprise album The Black Hole Understands, which Baldi and drummer Jayson Gerycz collaborated on via e-mail while quarantining separately.
The band is currently comprised of Baldi on guitar, vocals, and songwriting duties; bassist TJ Duke; guitarist Chris Brown; and drummer Gerycz. Each is an accomplished musician with a slew of other musical endeavors to their name. Some of these projects exist in the same guitar-pop realm as their main band, while other projects veer into avant, grotesque, and otherworldly zones fit for only the most fried and open ears. Through consistent touring and a steadfast dedication to growing as friends and collaborators, the four-piece has perfected a heavy, aural-assault style and merged it with Baldi's ridiculous pop genius. This amalgamation is beautifully evident on The Shadow I Remember. For their fifth studio full-length as a band (and ninth album under the project name), they reconvened with legendary producer and engineer Steve Albini, who helmed the sessions for the breakthrough Attack on Memory. "He has a gift," Baldi says. "He naturally makes it sound right. Albini's work is a presentation of the band as they are. No affectation." On The Shadow I Remember, the producer captures the band at its strongest. Though the lyrics concern the debilitating despair of everyday life, the band can be heard joyously playing unabashed, volume-driven, ear-drum-crushers that masterfully highlight Baldi's astonishing songcraft.
Looking back on more than a decade of music-making as Cloud Nothings, the group has plenty of reasons to be proud. Though no one expects the beings who gave us the song "No Future / No Past" to pause for nostalgia or pride. "So many bands can fizzle out and fade into sameness, but it's never been like that for them," Brown, who joined in 2016, says of his bandmates. With The Shadow I Remember seeing the band mature and cohere like never before, it feels as if the group is only just getting started. "We've been mad at each other. We've had life-changing times together. We've been through so much," Gerycz says. "At the end of the day, we're still very close friends and we care a lot about each other. How could it ever end?"