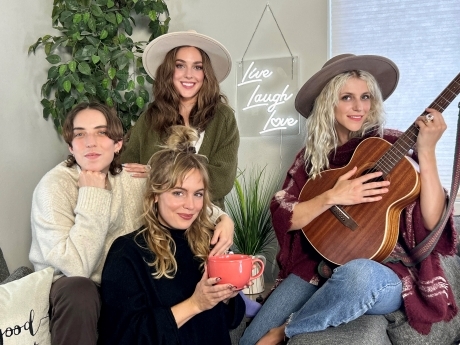 Saturday May 4
$20 / Doors at 8:00

In their decade-plus together, Chastity Belt—Julia Shapiro (guitar/vocals - she/her), Lydia Lund (guitar, vocals - she/her), Gretchen Grimm (drums, vocals - she/her), and Annie Truscott (bass, vocals - they/them)—have created a resonant body of work. The early days of "Nip Slip" and "Pussy Weed Beer" (hits from their iconic debut full-length No Regerts, which recently celebrated 10 years) and the "Cool Slut" era of 2015's Time To Go Home were raucous bonanzas of dry wit and self-evident feminism.

A newfound gravity on 2017's I Used to Spend So Much Time Alone shifted the lyrical mood toward introspection as they continued to refine their trademark sound: lush intertwining guitars, meticulous rhythms, a careful balance of melancholy and optimism. Two years later, the dreamy Chastity Belt marked a renewal of vows to their musicianship and friendship, each member coming into their own as artists, convening with a fresh perspective on collaboration.

Live Laugh Love, their fifth studio album out March 29, 2024 on Suicide Squeeze Records, is a natural continuation. Against the bizarre backdrop of the past few years, Chastity Belt remained a supportive space for the members to grow and experiment, drawing on the ingredients most essential to their process since the beginning: authenticity and levity.