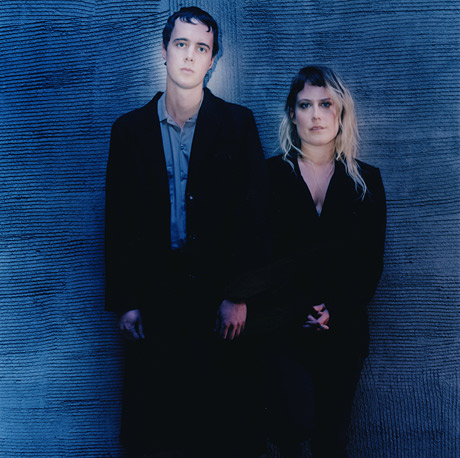 Sunday April 10
$20 / Doors at 7:30
Rescheduled from Friday Jan 28. All original tickets will be honored. Refunds available for those that cannot make the new date.

Since 2014, Boy Harsher have steadily released what some might call the gold standard of darkwave and new industrial. Matthews and Muller met in Savannah, GA while both studying film and their initial interest in music began with cinema. Matthews would write screenplays and Muller would compose scores for the non-existent films. Their first EP, Lesser Man, was originally released on a small run of cassettes, but rapidly gained online traction and became an underground hit. 2016's Yr Body is Nothing LP and 2017's Country Girl EP, propelled the duo into extensive tours and sold out shows across the US and Europe where they became known for their reckless and enveloping live performances. Boy Harsher rode this momentum into 2019's LP Careful, which was praised by NPR Music, Pitchfork, Resident Advisor, VICE and beyond. 
Last year, in the midst of the obvious chaos, but additionally with Matthews' MS diagnosis, Muller started working on moody, cinematic sketches. It was uncertain what these pieces would become other than catharsis — the duo were unable to tour and making "club music" did not feel right. In Matthews' period of convalescence, she kept thinking about a sinister character: a woman running through the woods. Together, the duo developed this idea further into a film that explores lust, compulsion, and the horrific tendencies of seduction. 
Featuring the dark pop that Boy Harsher is known for, the album also embraces the soundtrack ethos by including eerie instrumentals with tracks featuring guest vocalists that feel like they are from different musical groups — "Machina" is a HI-NRG homage performed by Mariana Saldaña of BOAN, sung in both Spanish and English. "Autonomy'' is a bright and heartfelt new wave anthem featuring  Cooper B. Handy aka Lucy. Boy Harsher's latest project is a reconciliation of uncertain times made into sound and moving image. The Runner and its soundtrack are both a return to form and an evolution for the duo.