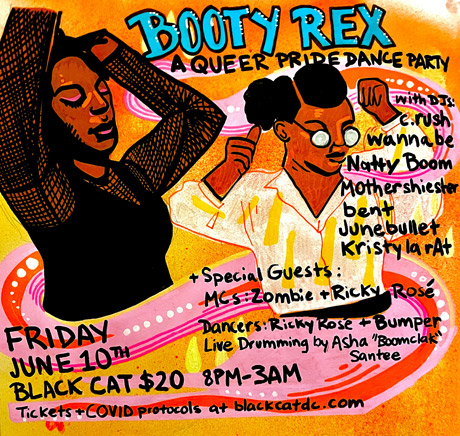 Friday June 10
BOOTY REX
QUEER PRIDE PARTY
featuring
JUNEBULLET (She Rex)
WANNABE (Bodywork)
PLUS
MCs:
DANCERS:
and LIVE DRUMMING BY:
and come early for a special set in the Red Room from DJ C.RUSH (She Rex)!
$20 / Doors at 8:00

Dig-loving-DJs Kristy la rAt, Natty Boom, Junebullet, Wannabe, bent, and mothershiester have battled sandstorms, flooding, homophobes, scorpions, and more to excavate the most thumping, beat-driven dinosaur. Take a trip with us to the Black Cat dancefloor on June 10th for the unveiling of… the Booty Rex, a creature that scientists feared was lost to the world forever. These musical, time-traveling paleontologists will transform their annual and "quite legendary" party into a Jurassic-sized pride extravagaaaanza. Snatch up your tickets while you can!