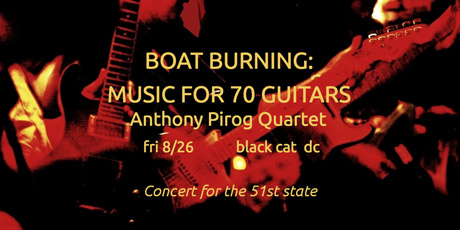 Friday Aug 26
with special guests
$15 Mainstage / Doors at 8:00

A unique and truly *massive* benefit featuring musicians from all across the nation's capital, including members of BOAT BURNING * TONE * TEEN IDLES * PAPERHAUS * PREE * TIME IS FIRE * BRNDA * WANTED MAN * CIRCUS LUPUS * DC IMPROVISERS COLLECTIVE * THE CARIBBEAN * DEN-MATE * SANSYOU * GWAR * CARTOON WEAPONS * ALCIAN BLUE * LAUGHING MAN * ALARMS & CONTROLS * MICHAEL MATTICE * MITTENFIELDS * THE RADIOGRAPHERS * SLIGO CREEK STOMPERS * TEREU TEREU * LORELEI * SOCCER TEAM * GREENLAND * EAST GHOST * IMAGINARY HOCKEY LEAGUE * HALO VALLEY * GUT HEAD * SKYLINE HOTEL * THE NRIS * DISSONANCE * SILO HALO * TEETHING VEILS * THESE QUIET COLOURS * DARK SEA DREAM * BREAKUP SEASON * THE BOUNDARY STONES * COBRA COLLECTIVE * ARIEL VIEW * JACK ON FIRE * THE CHARM OFFENSIVE * LOS ANGELES ELECTRIC 8 * THE FEED * STYLUS * NIGHT STREETS * FAST FORTY * ANTIMONY * MOUNTAIN JEW * THE MEAN IDEAS * THE BUZZ * SUN MACHINES * RAGNAPOP! * DOMINGUES AND KANE * ESCAPE POINT * TRIO OOO * LIGHT ARMS * THE MANTIS * LOW END STRING QUARTET * SOTANO * THE COURTESANS * SHADOW FARM * FICTIONS * THE ANTIQUES * PRAXISCAT * CHURT * GHOST LIGHT * TOWER FOLLY * THE SHOUTS FROM THE SEA * CSC FUNK BAND * CLASSICAL MUSIC ALMANAC * ARS NOVA CHAMBER ORCHESTRA * TRIANGLE RHYSING * MITER * JAU OCEAN and more.

All proceeds support the fight for DC statehood.

See full list of participating musicians at http://tinyurl.com/70GuitarsForDCStatehood.

D.C. maximal minimalist ensemble Boat Burning plays an intricate hybrid of composition and improvisation for massed-electric guitars, where elemental passages performed on a profusion of instruments - sometimes seventy or more - produce shimmering towers of densely-stacked harmonics. The result is powerful, evocative music that combines the widescreen sweep of classical with the sheer physical thrall of punk. Led by founder Andras Fekete, Boat Burning's core member/composers are: guitarists Jonathan Matis (DC Improvisers Collective), Norm Veenstra (TONE), Geordie Grindle (The Teen Idles), Andras Fekete (Triangle Rhysing: Music for Massed Guitars); Robin Diamond (The Probes) on guitar and keys; and Mark Sherman (The Road) on percussion.

Anthony Pirog continues to make his mark on the guitar playing universe one sonically enthralling, diversely influenced project after another. From his work on Janel and Anthony's Where is Home, described in Guitar Player Magazine as "approachable experimentalism," to his "pristinely executed rock guitar solos" with Skysaw, Anthony displays a "crystalline tone that's immediately recognizable as his own" in his ever-evolving conception of how a guitar can sound.