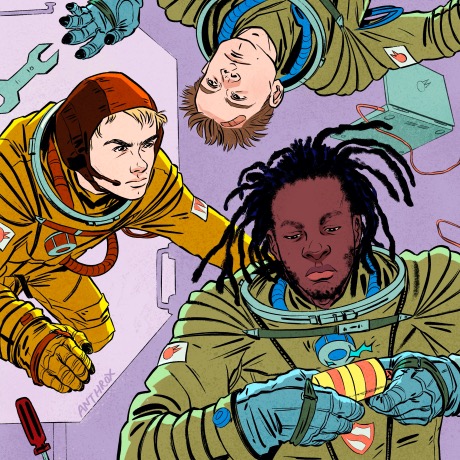 April 5 2022
$22 / Doors at 7:30

No second album syndrome and no sophomore slump for Britain's most exciting and challenging young rock band. black midi's follow up to Schlagenheim is a dynamic, hellacious, inventive success. Cavalcade, their second studio album for Rough Trade, scales beautiful new heights, reaching ever upwards from an already lofty base of early achievements. The meaning of the word cavalcade is a procession of people, such as a royal parade, and black midi picture their new album as a line of larger than life figures – from a cult leader fallen on hard times and an ancient corpse found in a diamond mine to legendary cabaret singer Marlene Dietrich – strolling seductively past them.
Geordie Greep, the band's mercurial guitarist and primary singer explains the fundamentals of Cavalcade: "A big thing on this album is the emphasis on third person stories, and theatrical ones at that."" Cameron Picton, the inventive bassist and occasional singer agrees: "When you're listening to the album you can almost imagine all the characters form a sort of cavalcade. Each tells their story one by one and as each track ends they overtake you, replaced by the next in line."" Morgan Simpson, the powerhouse drummer advises: "Enjoy it, live with it, spend some time living in it."" When pressed to choose one word to describe the album, Geordie elects for "drama" adding: "The emphasis when we were making and sequencing Cavalcade was to make music that was as dramatic and as exciting as possible. The flow has the feel of a story, which is rewarding to listen to."
But the record is dynamic in its musical ambition above all else. black midi listen widely and deeply not just to rock and jazz but to hip hop, electronic dance music, classical, ambient, prog, experimental... And their ethos is simple according to Geordie: "We just combine lessons learned from all of this music to make something that's very interesting to listen to and something that is brand new." They are quick to bat away any suggestion that it's a risky strategy drawing from such a wide source of influences, that the resultant eclectic mix of influences could produce something resembling a mad man's breakfast. Geordie says simply: "If you worry about that before you start you're limiting yourself. You have to try because you could either end up with a madman's breakfast or you could end up with a fantastic kaleidoscope and the only way to find out which one it's going to be is to try. If you fail, so what? Try again."