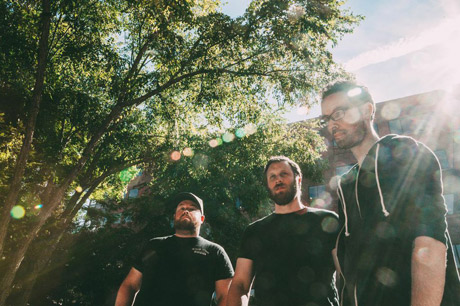 Friday Nov 21
$10 Adv/ $12 DOS Mainstage / Doors at 9:00

Black Clouds is a 3-piece instrumental band from Washington, DC that formed in mid 2011. They released their J. Robbins (Jawbox, Burning Airlines) co-produced LP "Everything Is Not Going To Be OK" in May of 2012.

Jimmy Rhodes (Drums), Justin Horenstein (Guitar/Keyboards), and Ross Hurt (Bass) set out to make a record with influences drawing from movie soundtracks, ambient artists, and heavier acts alike. BLACK CLOUDS have created a sound that is as equally massive, loud, crushing, and dark, as it is ambient, quiet, beautiful and mesmerizing. "Everything Is Not Going To Be OK", encompasses all of these emotions and feelings, and will leave you feeling as though you just listened to the soundtrack to the end of the world. The last track of this debut record features Neil Fallon of the band CLUTCH. His voice was used for an unknown character preaching a very haunting and terrifying spoken-word, making the title of the record feel even more like an absolute truth, that everything will not be OK.

They have played shows with, THE DILLINGER ESCAPE PLAN, A PLACE TO BURY STRANGERS, O'BROTHER, DEAFHEAVEN, ...AND YOU WILL KNOW US BY THE TRAIL OF DEAD, BIG BUSINESS, CASPIAN, ZECHS MARQUISE, THE LIFE AND TIMES, OFFICE OF FUTURE PLANS, and have toured with UNITED NATIONS (Thursday, Pianos Become The Teeth).