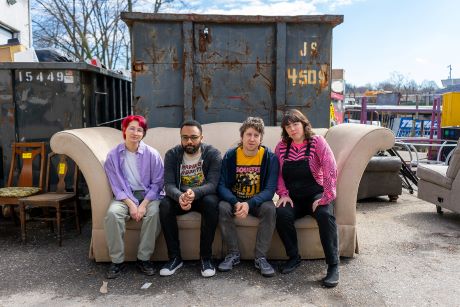 Friday August 13
$15 / Doors at 8:00

Formed in Washington, DC in the summer of 2015, Bad Moves is David Combs (guitar), Emma Cleveland (bass), Katie Park (guitar), and Daoud Tyler-Ameen (drums). Combs, Park, and Tyler-Ameen each have a proven background writing melodic, punk-informed songs as members of Spoonboy, Hemlines, and Art Sorority For Girls respectively. Bad Moves was conceived as a way to stretch out a bit: to take a melody and break it down, to see if a hook might thrive in a different style or context. As a result, the music takes subtle inspiration from power-pop, new wave, and garage without being too on the nose. The songs are a little downcast, but not without a sense of humor - and while the subject matter is rooted in the members' experience in DC, the sentiments are often universal. Bad Moves summons a bit of cautious optimism in the face of wack day jobs, skyrocketing rent, and decaying expectations.


Oceanator's debut full-length, Things I Never Said, sees NYC multi-instrumentalist Elise Okusami hyperbolically equating early adulthood malaise with apocalyptic destruction. The type of anxieties that form when thoughts bottle up and stress gets the best of you. Throughout the record, allusions to intrusive thoughts and depression-induced stasis are weaved in between references to falling skies, rolling fires, and the possibility of the world literally falling apart.


Bacchae, pronounced "BOCK-eye", are a Washington, DC band formed in 2016. Their songs can be described as post-punk, synth rock and heavy pop. At different times they've been compared to the B-52's, Black Sabbath, and Bikini Kill. But at their core, according to Washington City Paper, "Bacchae is an unapologetic, in-your-face punk band" who will melt your face with their high-energy jams.