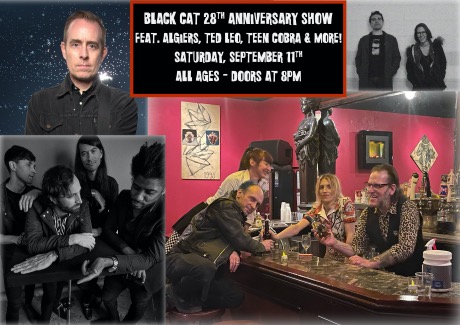 Saturday September 11
BLACK CAT 28th ANNIVERSARY PARTY
with
$28 / Doors at 8:00

The Atlanta-based ALGIERS combines the call-and-response of millenarian gospel, the urgency of 60s protest soul, the intensity of DC hardcore, and the viscosity of post-punk and no wave to create a new sound all of their own. Check it out.

TED LEO is one of the finest songwriters of our generation, even if it's not entirely clear what generation that is. Starting in New York Hardcore with Citizen's Arrest, making the '90s safe for power-pop and Weller-esque hair with Chisel, then singing our turbulent lives like we were smarter than we were with The Pharmacists, and most recently providing equal parts sweetness and solace with Aimee Mann as The Both, Ted never let us down.

TEEN COBRA are a husband and wife lo-fi rock and roll punk duo from Washington, D.C. Equal parts CBGB and Sun Studio, all filtered through a Crypt/Rip Off Records tainted lens, and marinated in juicy hell sauce.