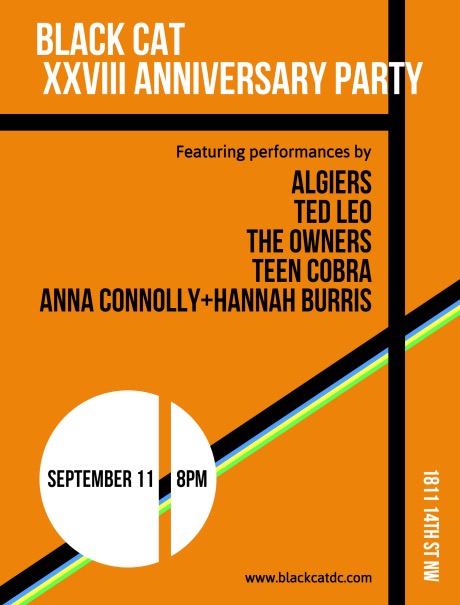 Saturday September 11
BLACK CAT 28th ANNIVERSARY
with
DJ set by ALEC MACKAYE
$28 / Doors at 8:00

The Atlanta-based ALGIERS combines the call-and-response of millenarian gospel, the urgency of 60s protest soul, the intensity of DC hardcore, and the viscosity of post-punk and no wave to create a new sound all of their own. Check it out.

TED LEO is one of the finest songwriters of our generation, even if it's not entirely clear what generation that is. Starting in New York Hardcore with Citizen's Arrest, making the '90s safe for power-pop and Weller-esque hair with Chisel, then singing our turbulent lives like we were smarter than we were with The Pharmacists, and most recently providing equal parts sweetness and solace with Aimee Mann as The Both, Ted never let us down.

THE OWNERS are Dante Ferrando (Gray Matter, Ignition), Catherine Ferrando, Al Budd (The Shirks), and Laura Harris (Ex Hex, The Aquarium). The Ferrandos have owned and operated the Black Cat since it opened in 1993, Al Budd and Laura have both been behind the bar for more than 20 years. Although they have worked together and seen each other perform for many years, it wasn't until the pandemic hit and the club had to put a hold on shows that they thought to get together and play. The result is one of the most fun new bands in DC.

TEEN COBRA are a husband and wife lo-fi rock and roll punk duo from Washington, D.C. Equal parts CBGB and Sun Studio, all filtered through a Crypt/Rip Off Records tainted lens, and marinated in juicy hell sauce.

ANNA CONNOLLY writes, plays, and sings songs that tell stories about the bare world of emotion and the human experience. AFTER THOUGHTS carries the listener through raw and stark songs about life's ups and downs, about relationships gone wrong, about ironies and unexpected twists of fate.