Food For Thought Café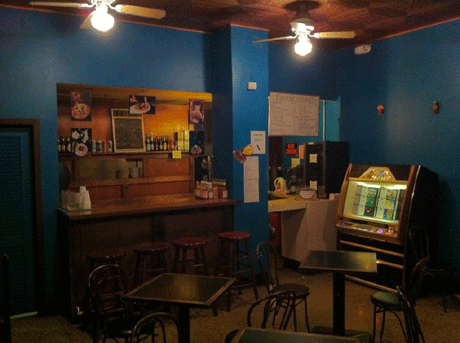 Open 7:00pm-11pm Mon.-Thurs.
Friday 7:00pm-12am
Saturday 7pm-12am
Sunday 7pm-11pm
If you get hungry, or just feel like meeting friends in a quieter room, we are proud to offer the Food for Thought Café. Treat yourself to FFT specialties including vegan and vegetarian lasagna, sautéed vegetables and brown rice, house-made salsa, and the famous FFT lemon-tahini dressing in a separate café that overlooks the hustle and bustle of 14th Street. If you crave more traditional fare, the café offers such standards as burgers, nachos, BBQ chicken sandwiches, salads, and fries. Click here for a look at the menu (PDF).
The original Food For Thought Restaurant on Connecticut Ave. NW served the community for over 25 years with the same organic fair-trade coffees and delicious-yet-health-conscious vegan, vegetarian, and locally raised natural beef and chicken dishes, but finally shuttered its doors in the summer of 1999. Photos of the original Food For Thought – and the community it housed – can be seen at www.myspiritualrevelationsandotherbs.com.